One of my earliest memories is of sitting on the living room floor flipping through television channels. Spongebob­­click­­Oprah­­click­­Full House­­click. One particular day, a dozen or so clicks into my tv time, I stumbled upon a music video. Now keep in mind, I was only four to five years old, so this was certainly pre-­iPod era. In fact, at this tender age my music experience had basically consisted of listening to the car radio from my booster seat or to my Mom's boom box in the kitchen. (Yes. Boom box. This soon-to-be antique is still occupying space in my parents' basement). None­the­less, this tv channel I happened upon was suddenly giving a visual experience to a well-known song. On the screen, Faith Hill was singing her 1999 hit "This Kiss." I remember being glued to the television as she rode on a rocket and bloomed from flowers right before my very eyes. From that moment on, Country Music Television (CMT) was the only show that was on if I had control of the remote.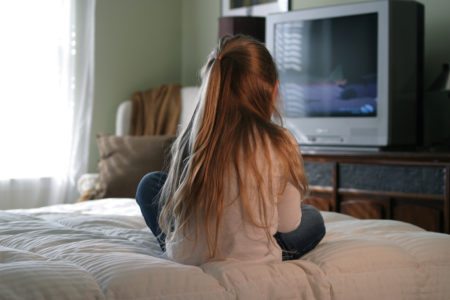 Note: I recently looked up this video on YouTube. I shouldn't have. It's not nearly as glorious as I remember. In fact, it may be one of the worst music videos of all time. And the use of green screens? Yikes! But at that time my four-year-old brain was in awe. Of course, at that age I couldn't have communicated exactly why these videos captivated me, but reflecting on it now, it seems I have always been intrigued with the visual storytelling process.
Through the years, this fascination for visual elements and storytelling continued to grow. Lucky for me, during this time my mom was on the scrap-booking bandwagon. I spent countless hours using her tools and supplies for my latest "project". I can recall numerous trips to Hobby Lobby (using the Sunday paper's 40% off coupon) to stock up on glitter paper and glue sticks to ensure my special projects were visually appealing. Now these "projects" are all done digitally on my laptop, and I don't leave as much of a mess!
I am excited to be back at IronGate this summer and spend my days working on projects I am passionate about. I'm thankful to be working with such a talented and creative group of people!